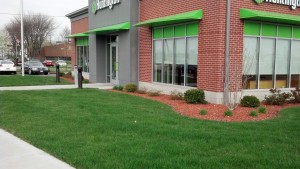 Your lush and healthy lawn will be the talk of the town with our 7 step care program. We use only the finest quality products to make your lawn a wonderful oasis that you can enjoy. Our technicians have decades of experience in handling any situation that may arise on your lawn. Let us show you what having a true Lawn Care Master can do for you!
Our 7 step program includes 5 visits for fertilizer and weed control, applying only what is necessary to get the desired results.  Also included is a preventative control for grubs, and a core aeration, which is the most important thing you can do for your lawn every season.
7 Steps not in your budget? We will design a custom program around what you can afford to safely and responsibly care for your lawn.
You work hard for your money, and we know that when you spend it, you want the best return on your investment. Let us show you how affordable a beautiful lawn can be.
Tree & Shrub Care
With Tree and Shrub Care from Superior Outdoor Management, you'll feel like you have your own personal gardener. Your flower beds will be the envy of the neighborhood, and it won't break the bank! Our 4 step complete care program gives your landscape the proper feeding exactly when it needs it, and protects it against pest damage all year long!
Pest and Animal Control
Bugs are more than just a pest. They can do damage to your home, cause health problems, and even bite and sting family members!
Our Pest Management Specialists can handle any pest you may have. From ants to termites, mosquitos to bees, we have the experience to control anything that is pestering you!
Note: With the damage done lately to honey bee colonies by the Varroa Mite, we will relocate any honey bee hives to avoid lowering the population any further. Our experts can and will take great care to move a honey bee hive to avoid losing any more of our valuable natural pollinators.
Many times, our world overlaps with that of nature. When that happens, animals can do damage to homes, pets, even people. At Superior Outdoor Management we employ some of the best animal control specialists in the business. With years of trapping and removal experience, we can take care of any animals that are intruding in to your space. Raccoons, squirrels, skunks, coyotes, bats, snakes, whatever the problem, we can take care of it. Our exclusion and trapping services can keep your family healthy and safe from unwanted guests. We use humane traps, and relocate the animals whenever possible. We can help keep the furry creatures outside where they belong.